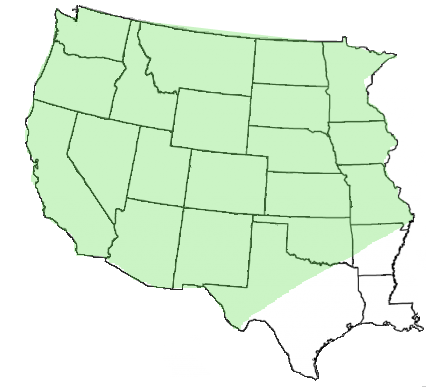 Linum lewisii,
Lewis Blue Flax (Native)
Perennial, 1 – 3 ft. tall. Similar to Perennial Flax except native to the US. Blooms in the late spring with an abundance of blue flowers. Short-lived, drought-tolerant, cold-hardy, semi-evergreen forb. Adapted to western and central US. Does best on well drained porous soils from 1,000 – 7,500 ft. elevations in the 10 – 18 inch precip. zone.  Tolerant to moderately alkali and weak acid and salty soils. Intolerant to poor drainage and high water tables. Very good palatable forage for livestock and wildlife including sage grouse. Very valuable for wildlife and range improvement projects, wildfire revegetation, mining, road construction and other soil disturbing activities revegetation and in wildflower mixes for beautification. Minimum precip. is 9 inches. Plant spring or fall 1/8 – ¼ inch deep.
Named Release: 'Maple Grove' (Selected Class Germplasm) Released in 2003 from a native collection in Maple Grove campground in central Utah by the USFS RES and Aberdeen, ID PMC. Selected for vigor, beauty and competitiveness with grasses.
USDA: Plant Profile | Plant Guide