Seedbed Preparation
Preparing a proper seedbed for planting is almost always extremely important in achieving a successful seeding project. An ideal seedbed in many instances is one that is free of competitive weeds, including both plants and seeds. Has a friable structure that allows the infiltration of moisture. Firm but not over packed so the seed can be planted to the proper depth and contains sufficient surface mulch to prevent rapid drying.
A suitable or adequate seedbed will vary based on a number of factors such as the natural environmental conditions you have to work with such as soils, climates, topography, etc.. Other factors such as intended use after seeding, size of projects, available money, species selection etc. also come into play.
Seed Planting Depth
Seed needs to be planted so it is in firm contact with the soil to help it maintain moisture for germination and growth and to anchor it to the soil. Usually the proper depth of a seed to be planted is determined by the size of the seed. Generally seeds of most species should be covered with soil to a depth about 3 times the thickness of the seed. This can vary some, as some species are more tolerant of being planted deeper or shallower than this rule of thumb. The texture of the soil can also make a difference. Also, some species seed must be planted on or near the surface for proper germination and establishment because of physiological restrictions such as light requirements, temperature requirements, etc. Keep this information in mind, as planting seed too deep has been a major reason for seeding failures in the past. The proper depth to plant is recommended in each of the species descriptions found in this website.
Seeding Methods
Drill Seeding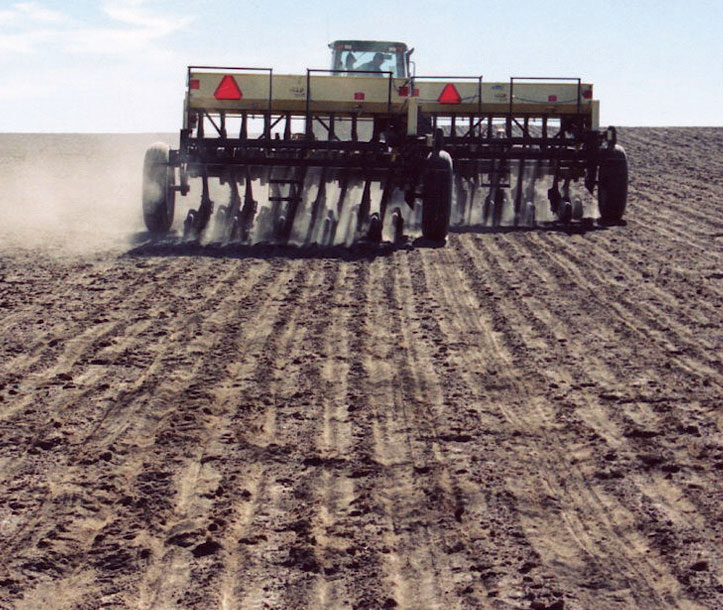 Aerial Seeding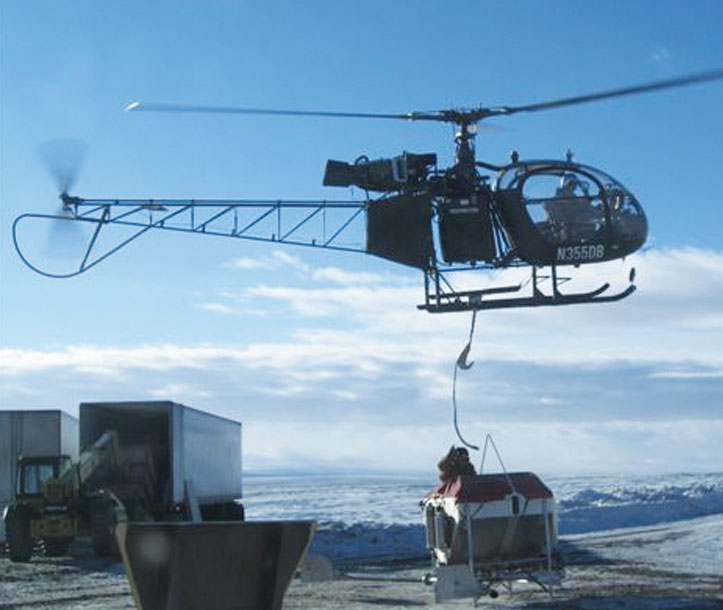 Hydro Seeding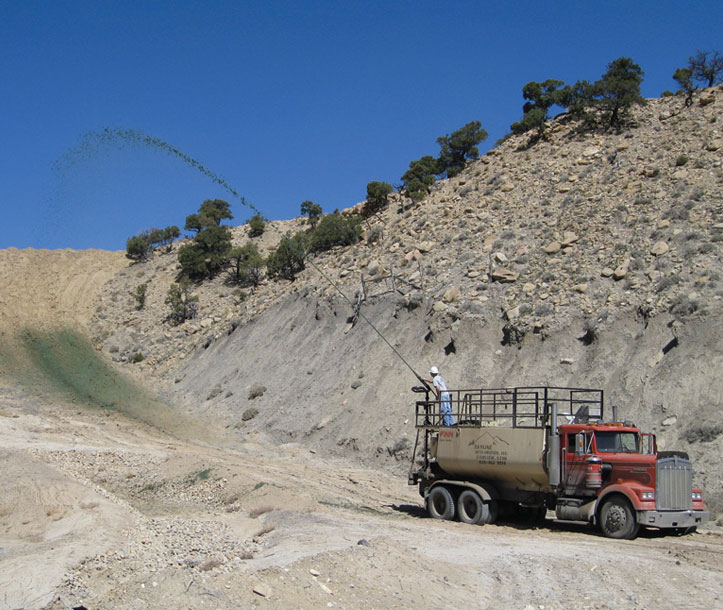 The best method(s) of planting seed can vary from site to site because of factors such as terrain/topography (slopes, gullies etc.), soils (rock, surface litter, textures, etc.), money available, size of project, length of proper seeding period, species of seed etc.
The most common methods of planting seed are by:
Drill seeding (there are excellent versatile drills available).
Broadcast seeding (various methods)
Hydro-seeding (various methods).
All of these methods can be successful but drill seeding is usually best but it is not always feasible. For whatever method is selected the best techniques to use should always be employed.
Correct Seeding Time
Because of the various characteristics of both individual species of plants and their seeds the correct time of the year to plant each species must be known to achieve good seed germination and plant establishment. Some native species of plants seed have a dormancy that requires a period of wet and cold stratification to break the dormancy before the seed will germinate. The length of time of stratification required can vary from one week to several months or more depending on the species. Some species even have pre-programmed seed that specifies that only a "portion" of the seed will germinate when favorable conditions exists, and more will germinate at a latter date.
Another important factor in determining the correct planting time, especially in more arid and hot or cold climates, is when do favorable germination and plant growth condition occur in relation to moisture and temperature, or is irrigation water available. As you can see this information is important for a successful seeding project. The recommended planting time for each species is given in the plant description in this website.
Correct Seeding Rate
Applying the correct amount of seed is very important in achieving a successful seeding project. Too little seed leads to poor results and too much seed is a waste of money. Determining the correct seeding rate depends on a number of factors such as:
The number of seeds in a PLS (Pure Live Seed) lb. of the species you are planting. This is determined by the seed size and density.
The desired results of plant density or percent composition of each species if you are planting a mixture of species. What are the species being planted if a mixture and what are their characteristics such as competitiveness, aggressiveness, persistence, etc.
What methods will be used to plant the seed? Forms of drill-type seedings are usually more accurate and achieve a greater percent of germination and seedling survival so usually a lower seeding rate can be used as compared to a type of broadcast seeding. For example, a total PLS lbs. seeding rate for a rangeland improvement project might be 12 PLS lbs/ac. if drill planted but should be increased to 18 PLS lbs/ac. if broadcast seeded.
The seeding rate is also based on the estimated survival rate of germinated seed that grows into established seedlings and eventually matures. Survival rates are generally quite low often times because of factors such as poor seedbed conditions, poor moisture, frost, animal depredation, insect and disease problems, and competition from weeds and other plant species. Therefore sufficient seed must be planted to offset a possible low survival rate. Many recommended seeding rates are given in a Pure Live Seed pounds per acre. Recommended rates may also be given on a Pure Live Seeds per square foot.
Management After Seeding
It is very important to follow good post-seeding management practices to achieve both short and long term success of the goals desired for a seeding project. Not to do so can greatly jeopardize your results. Good post-seeding management practices should include all possible efforts that would allow for germination and establishment of the planted seed. This would include things like reducing or eliminating things like livestock and wildlife use for 2-3 years or more while the young plant seedlings are establishing. Controlling noxious or unwanted plants or weeds may be a necessary management practice in some plantings. In some cases fertilizing or supplemental water may be required. Soil erosion control measures and soil moisture retention practices may be appropriate such as mulching, contour furrowing, gully check dams and others. Longer-term plans for continued project success are also a requirement and vary from project to project.